Philanthropic Foundation Board of Governors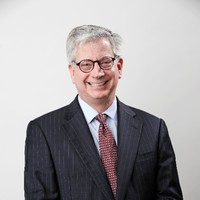 Douglas G. Stewart '87
Chairman
Marts & Lundy
Douglas G. Stewart is chairman of the board of Marts & Lundy. As a consultant, he provides strategic and management advice with a special focus on large and complex institutions, especially research universities and academic health sciences centers. His work includes development program assessments, ongoing counsel for campaign planning and execution, and consulting on structure and organizational change. Stewart also works extensively with institutional and academic leaders, volunteers and staff to increase their effectiveness in their development roles. He led the firm's health sciences practice from 2009-2016.
Prior to joining the firm in 2009, Stewart was Associate Vice President for Medical Development and Alumni Affairs at Stanford University. As such, he was the chief development officer for the Stanford School of Medicine and Stanford Hospital & Clinics and part of the leadership team for Stanford's $6.2 billion comprehensive campaign. Previously Stewart spent ten  years at the University of California, San Francisco, as director of the $1.4 billion Campaign for UCSF and as vice president of the UCSF Foundation.
Over the past 25 years, Stewart has become well-known as a speaker, training more than 8,000 institutional leaders, faculty members and staff in the principles and practice of philanthropy. He has chaired more than 35 "Development for Deans" conferences for the Council for Advancement and Support of Education (CASE) and has conducted development training programs for dozens of organizations throughout the U.S. and Canada.